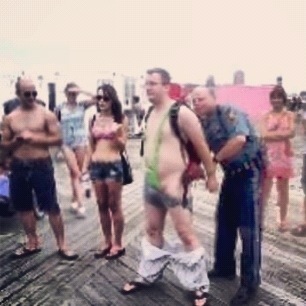 Today, one day after the bathing suit ban was lifted in Asbury Park, our friend Steve was arrested during our celebration of the repeal of that ridiculous law.  Although the police officer told the reporter that Steve took his bathing suit off and acted "lewd", the eyewitnesses and video absolutely show that he took off his shorts revealing his, bright neon green bathing suit.  That's it, yup, seriously, he wore a banana hammock and was immediately arrested.
The only dick I saw was not wearing a green bathing suit, he was wearing a short sleeved blue shirt.
Here is video of Adam's speech followed by Steve being arrested for his choice of swimwear.

Video courtesy of Adam Vs. The Man.
Anyway, before all of that happened, I had performed a short (and battery powered) set for a bunch of wonderful freedom lovers, followed by some great speeches from some speakers including; Eddie Free, Danny Panzella, Adam Kokesh and more.  Now, I was going to play a few more songs after they were done speaking, however, after Steve was arrested the arresting cop came up to me and informed me that if I do not stop playing I would also be arrested.  I told him that according to the sound ordinance (article 3-25.4 section d), noncommercial speaking engagements are exempt from the "no amplification" section of the ordinance.  Well, he didn't know what to say and just repeated that it was illegal.  He seemed to just make it up as he went along, which is much more alarming then the neon green banana hammock if you ask me.
I had a great time today performing and I will post some video as soon as possible.  Thanks to Eddie Free for throwing together this fun @NJSwimSuitParty, thanks to Steve for wearing such a sweet bathing suit, and thanks to the cop for invigorating all of us to organize another event, this time with 500 hundred people wearing the neon green banana hammock.