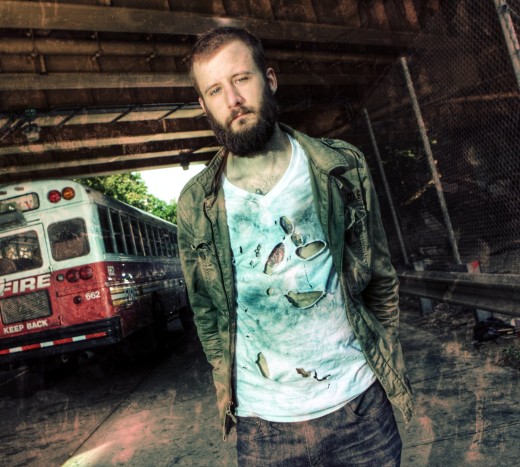 Written by Dustin Schoof / DustinSchoof.com
Dave Cahill first opened for renowned guitarist Tim Reynolds in November 2006.
Nearly a decade later, Cahill tonight will find himself in a similar, though familiar, situation. The Frenchtown-based guitarist will open for Reynolds at Havana Restaurant & Bar in New Hope, Bucks County.
"I remember I was so nervous the first time I opened for him," Cahill recalled Tuesday during a phone interview. "Even after 10 years of opening for him, I still leave my jaw on the floor."
What started as an opening set has turned into a friendship and camaraderie between the two musicians. Cahill said Reynolds — best known for his collaborations with the Dave Matthews Band — is his favorite guitarist and praised the latter for being a "normal dude who is really, really good at guitar."
"He's very inspiring," Cahill said of Reynolds. "I've learned (by watching him) that, at the end of the day, if you're not playing music from the heart, then why are you playing it in the first place?"
In 2009, Cahill traveled to Ohio to attend a guitar workshop being taught by Reynolds at the Fur Peace Reach performance venue and instructional center. (Fur Peace Ranch is owned by Hot Tuna guitarist Jorma Kaukonen.) There he met other Reynolds fans, most of whom he had only interacted with years earlier through an online message board. "All of the board members who never met each other went," Cahill said. "It was a magical experience … It was like band camp for acoustic guitar nerds."
Cahill returned to Fur Peace Ranch in 2011. "It was really neat to experience that and asking him (Reynolds) questions and hearing his thoughts," Cahill said.
Cahill is also scheduled to open for Reynolds at Havana on Feb 11. That show will feature Cahill performing as part of the group Hot 4 Robot. Hot 4 Robot is rounded out by singer-guitarist Alex Radus, Evan Straley and Andy Janowiak.
The two Havana performances are part of what his shaping up to be a busy year for Cahill. Cahill, formerly of local favorites The Almighty Terribles, is one of four area acts slated to perform Jan. 23 during the "Easton Rocks!" fundraiser concert at the State Theatre in Easton. That concert will feature Cahill sitting in with the Alex Radus Trio, as well as sets by singer-songwriter Carter Lansing, acoustic rock duo Blue Jean and the band Roi and the Secret People.
Cahill is also busy working on his next solo album. The record is a concept album collaboration with musician Kalma. Cahill said the album's storyline centers around a husband/soldier, who loses body parts during an overseas mission. The soldier decides to have his limbs replaced by robotic appendages — just as a singularity event occurs and humanity and artificial intelligence find themselves at odds.
Cahill recently released the single "Future Shock."
"I'm playing the acoustic, natural humanist part of the story. He (Kalma) is the digital robot (voice)," Cahill said. "It's really amazing and hopefully people will like it … without (Kalma), it never would have sounded the way it does."
Guitarist Dave Cahill performs 8 tonight with Tim Reynolds at Havana Restaurant & Bar in New Hope, Pennsylvania. Tickets cost $35. Information: havananewhope.com